I'm a big fan of Instagram.  The Instagram format of square photographs and brief captions is ideal for sharing images and information about watches, and there is a rich flow of postings dedicated to both vintage and modern watches.  The #VintageHeuer hashtag serves the community of vintage Heuer collectors well, and we see some amazing old Heuer on Instagram, every day.
Recently, TAG Heuer has begun posting some fantastic photos of the vintage Heuers in the TAG Heuer Museum.  In this posting, we show the photos and captions from several of these postings, as well as a couple of other favorites from the TAG Heuer Instagram feed.  For each of the chronographs, we have also added links to the OnTheDash galleries where you can see additional photos.

If you like these photos, then you will want to follow TAG Heuer on Instagram.  There are several hundred more fantastic watches in the TAG Heuer Museum and we look forward to seeing them in TAG Heuer's Instagram postings!
Jeff Stein
August 18, 2015
Heuer Carrera, Reference 2447D (Decimal Minutes), co-branded with Fisher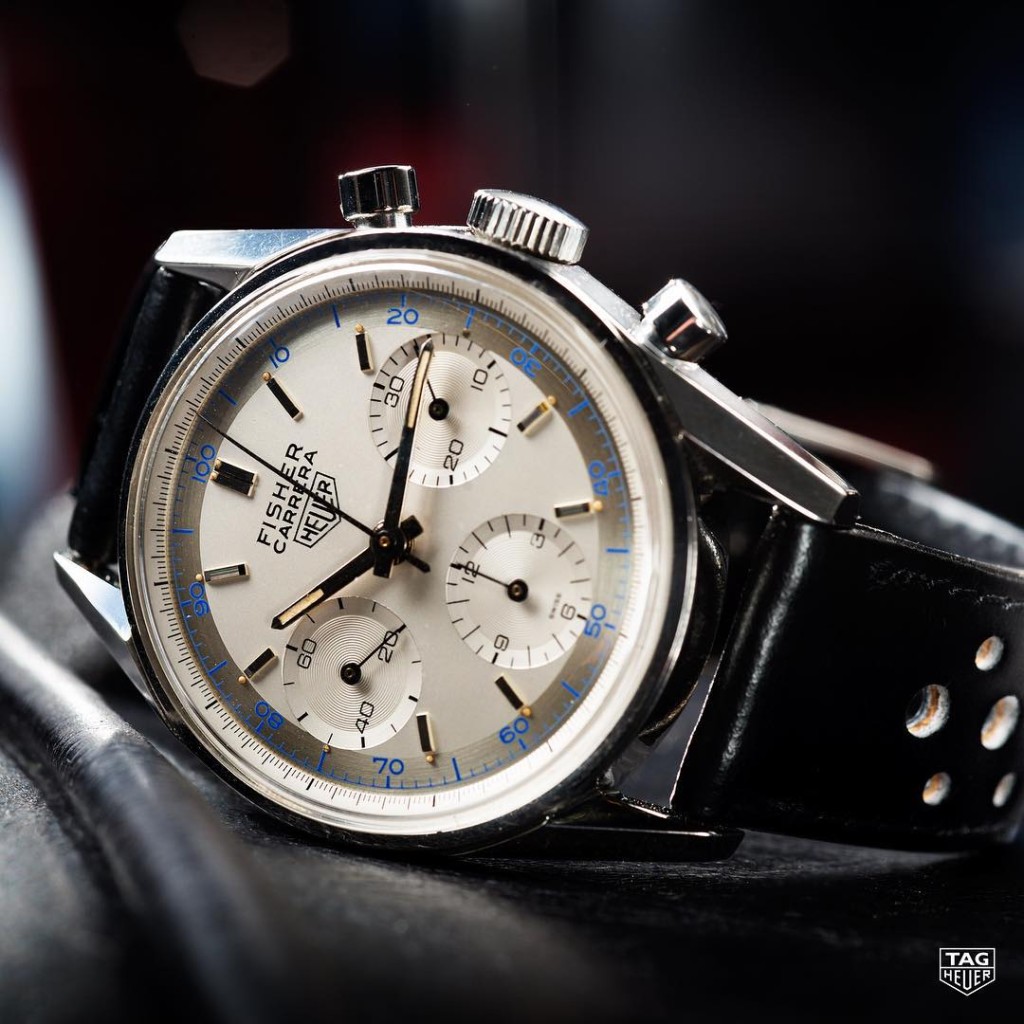 Co-branded with Fisher, this 1964 Carrera 2447-D is one of our most timeless creations.
Shot at the TAG Heuer 360 Museum (La Chaux-de-Fonds, Switzerland).
#vintagewatch #DontCrackUnderPressure
Additional photos of this model HERE.
Three Carreras and a Skipper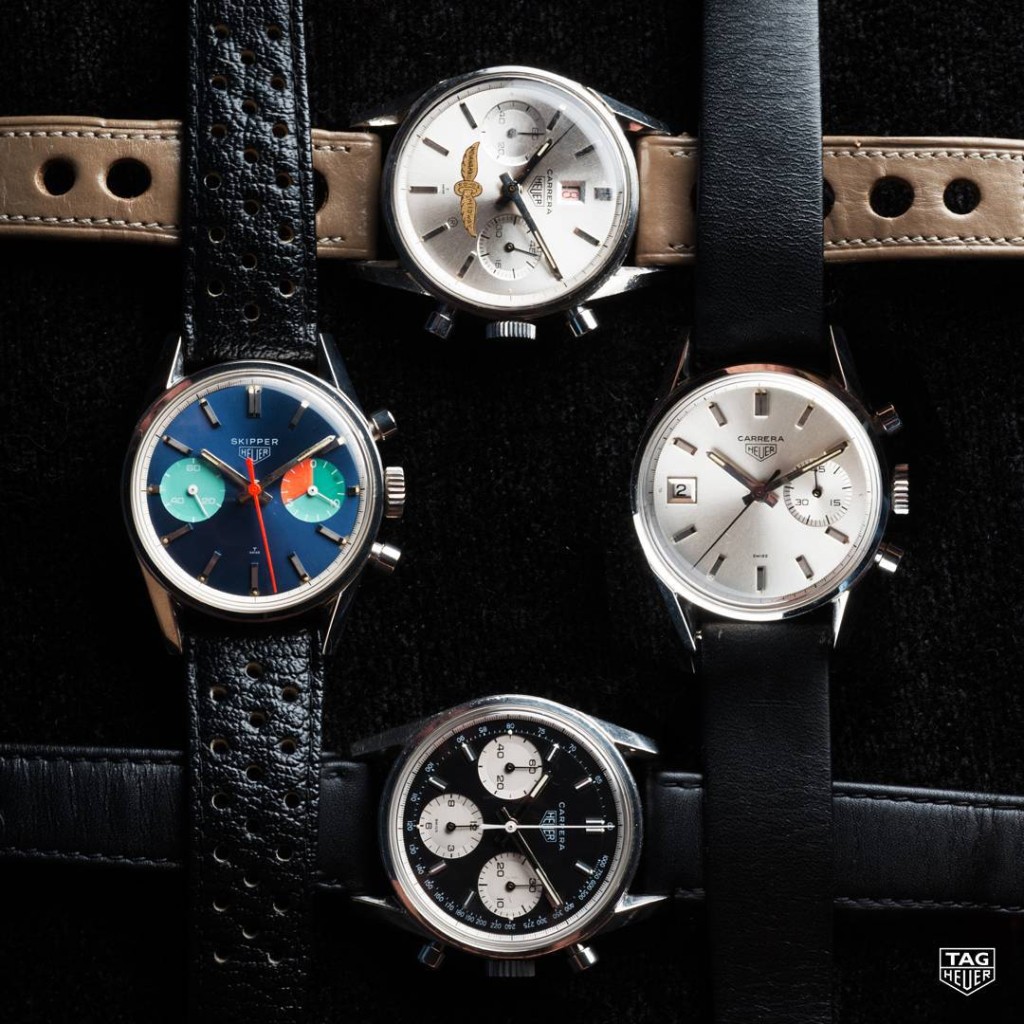 Skipper, Indianapolis, Panda and 45 Dato. The Carrera case made history in watchmaking, thanks to this stunning quartet. ‪#VintageWatches ‪#Museum‬ #TAGHeuerCarrera #TAGHeuerWatch #Indianapolis #Solunar
Additional photos of the 1960s Carreras HERE.
Heuer Carrera, Reference 2447 NST (Black Dial; White Registers; Tachymeter Track)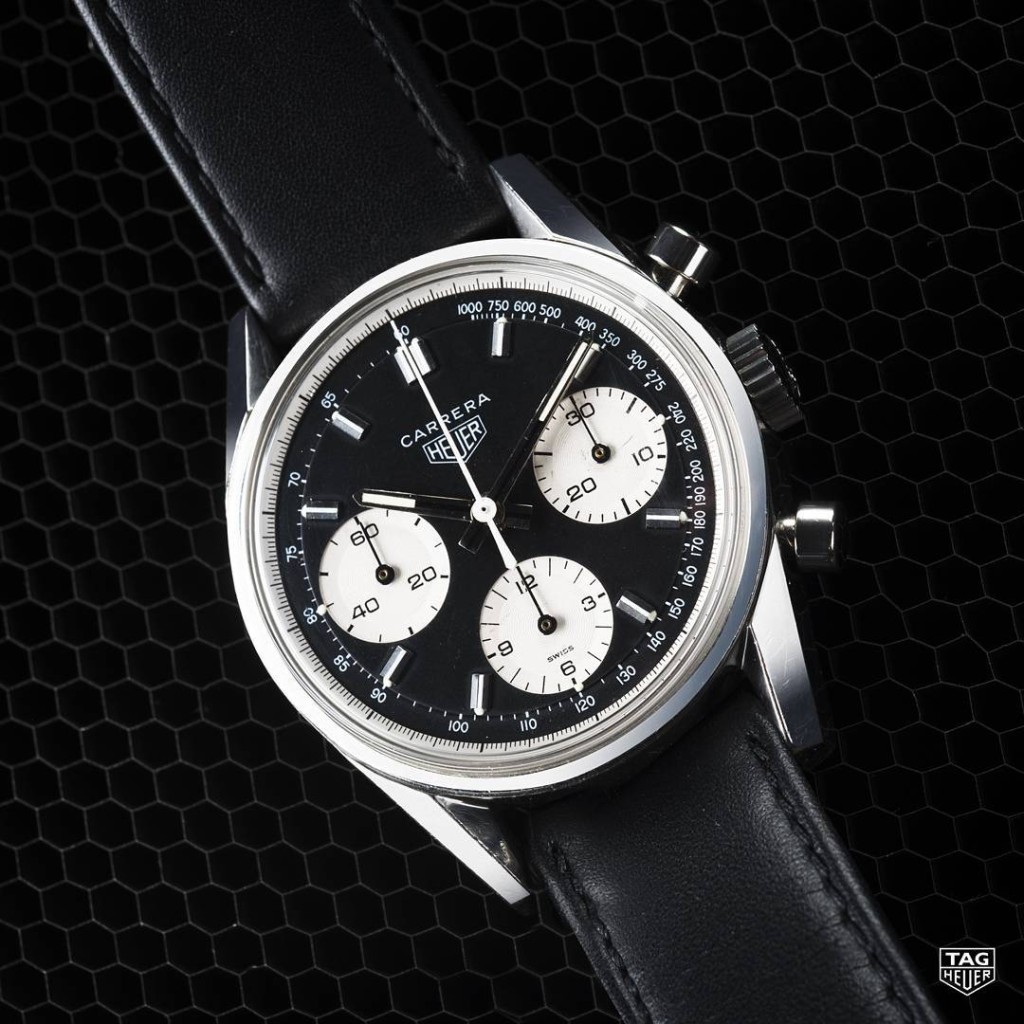 Because of its elegant black & white look, this beautiful Heuer Carrera got the nickname of "Carrera Panda". ‪#TAGHeuerWatch #VintageWatch #TAGHeuerCarrera #Panda #Heuer
Additional photos of this model HERE.
Heuer Skipper, Reference 7754 (which collectors call the "Skipperrera")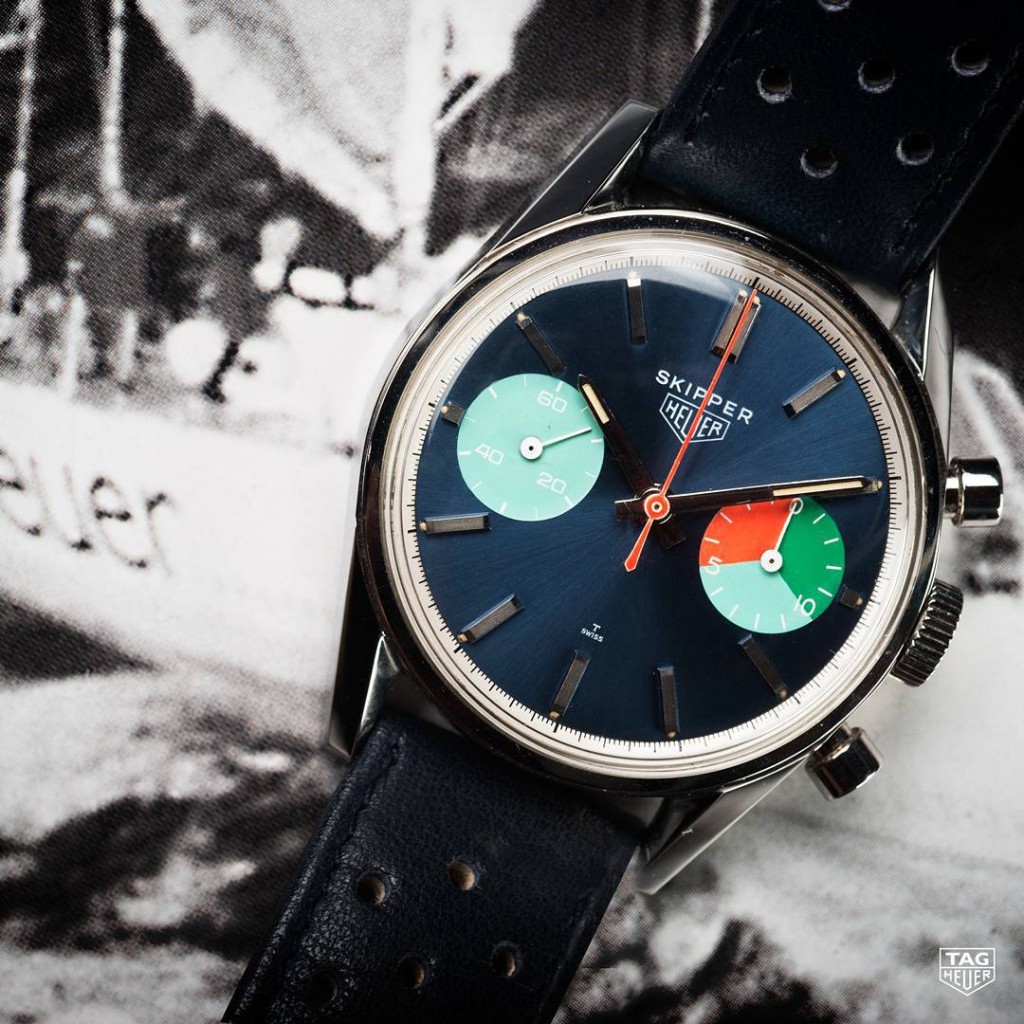 The Heuer Skipper is a splendid vintage timepiece, created by Jack Heuer in the late 60's. As a true sailor watch, it features a regatta-timer. #DontCrackUnderPressure #Heuer #Skipper #SailorWatch #VintageWatch
Additional photos of this model HERE.
Heuer Autavia GMT, Reference 1163 (Second Execution)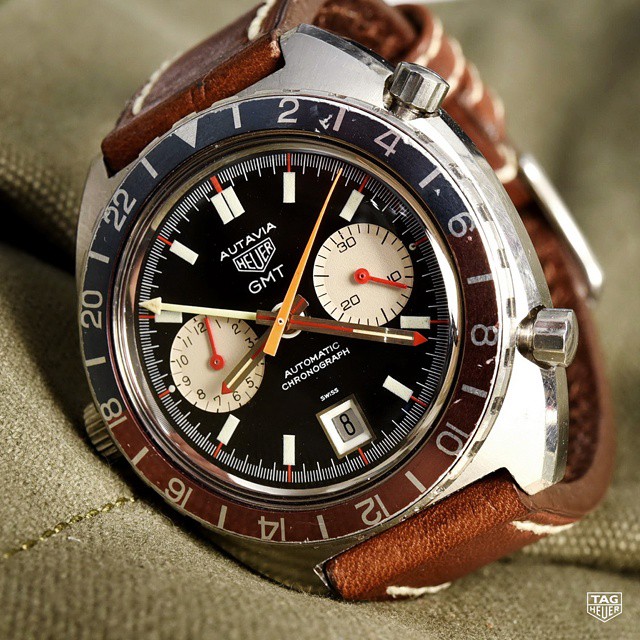 Thank you #OntheDash for a wonderful blog post, taking a comprehensive look at one of TAG Heuer's 'Big Three' vintage chronographs, the Autavia. A true racer's watch. ‪#VintageWatch #Autavia #Heuer #DontCrackUnderPressure #TAGHeuerWatch
Additional photos of this model HERE.
Heuer Solunar, from the 1950s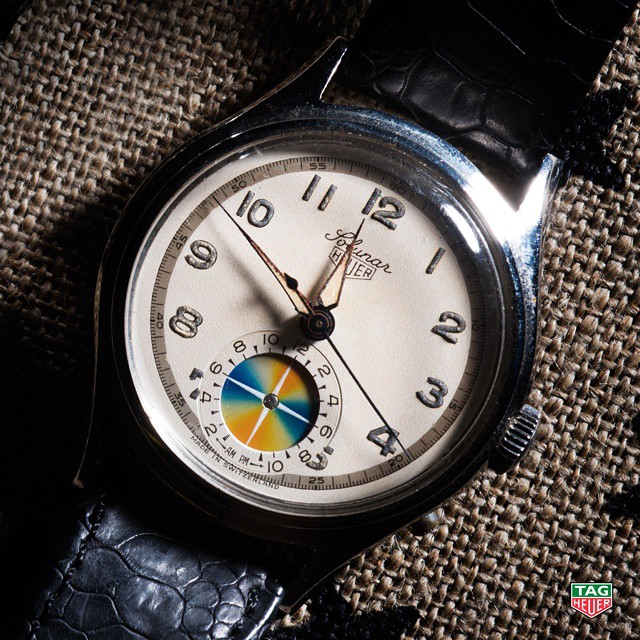 Only a lucky few own one of the original 1,000 Heuer Solunar 1949 limited edition timepieces. This one is displayed in our Museum in La Chaux-de-Fonds. #DontCrackUnderPressure #Solunar #Tide #Museum #VintageWatch #TAGHeuerWatch
Additional photos of the early Solunars HERE.
Vernasca Silver Flag Hill Climb, June 2105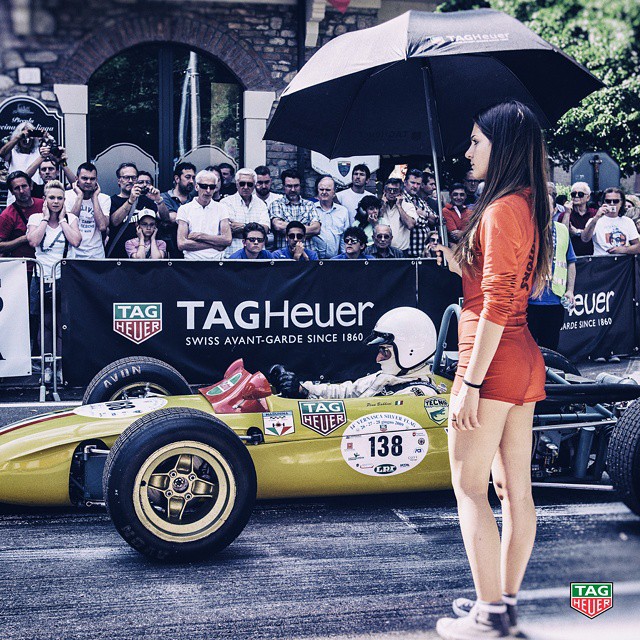 The sun was beating down on Castell'Aquarto (Italy) last weekend! 240 cars were involved in the 2015 Silver Flag, one of the world's most iconic climb races – considered as the Italian Pikes Peak #DontCrackUnderPressure #SilverFlag #Motorracing #VintageCars #MotorFestival #Italy #PikesPeak #HillClimb
Two Vintage Heuer Silverstone Chronographs, Reference 110.313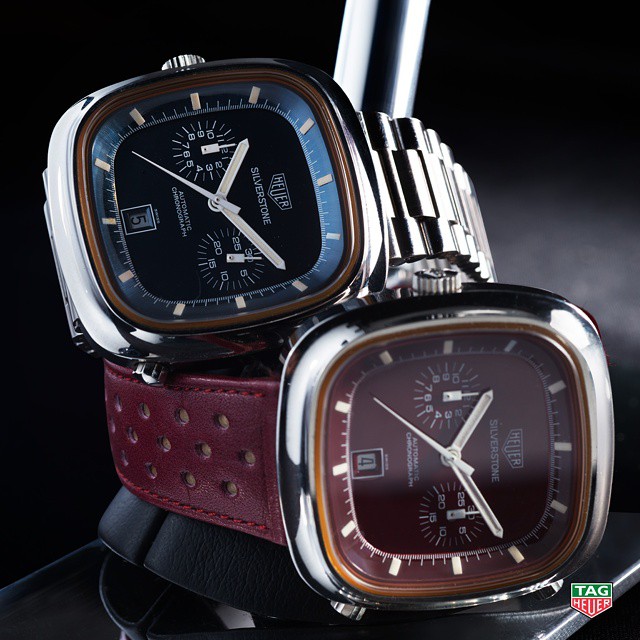 Need to check the time while driving at top speed? No problem. The Silverstone inspired chronograph lets you do just that, with its high visibility watch-face. #DontCrackUnderPressure #Motorracing #Silverstone #Heuer #TAGHeuer #VintageWatch #Museum
Additional photos of the Silverstones HERE.
The "Steve McQueen" Monaco, Reference 1133B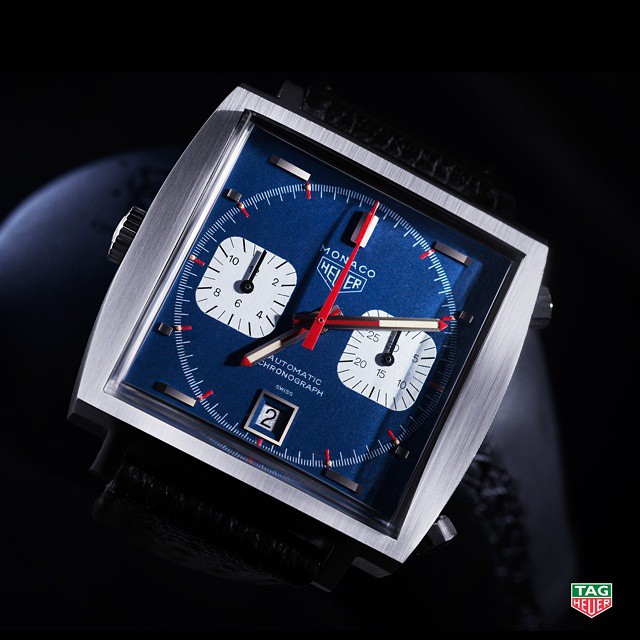 This is the TAG Heuer Monaco worn by Steve McQueen in the classic racing movie "Le Mans". A timeless legend in its own right, displayed in our Museum in La Chaux-De-Fonds. ‪#DontCrackUnderPressure #Legend #LeMans #SteveMcQueen #TAGHeuerMonaco #Museum
Additional photos of this model HERE.
Heuer Centrigraph Timer, for the Ferrari Formula One Team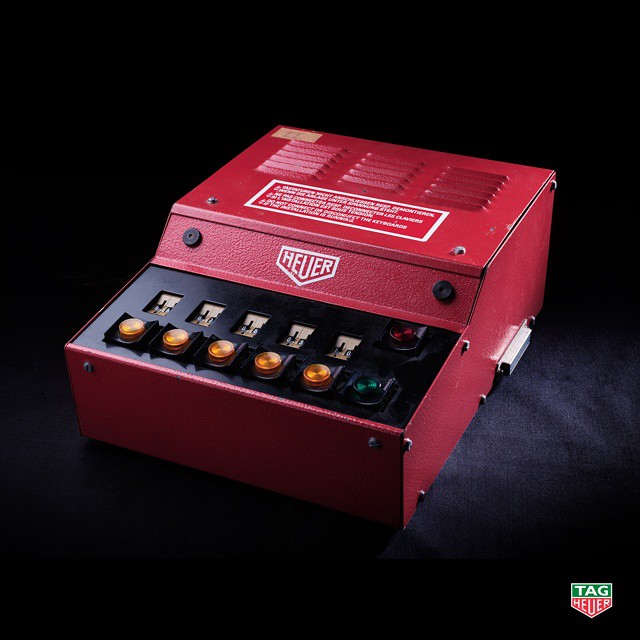 How did a little red box change racing and timekeeping forever? In 1971 Enzo Ferrari challenged Jack Heuer to create an ultra-accurate timekeeper worthy of the 24 Hours of Le Mans. Jack Heuer responded with the Centigraph Le Mans, the first chronometer with a 1/1000 accuracy. ‪#‎DontCrackUnderPressure #LeMans #Centigraph #TimeKeeper #TAGHeuer #AvantGarde